Books
Celebrating Roald Dahl 100 years on
On the 13th September 2016, Roald Dahl was celebrated across the globe by thousands and thousands of children…. if not millions! You'd be hard pushed not to find an adult who didn't grow up with his stories.
My first encounter with the great man was when towards the end of the school day: Mrs Lenny would read the next chapter of Charlie and the Great Glass Elevator. This was soon followed by James and the Giant Peach. I waited with great excitement and impatience for the day to draw to a close so we could hear the next instalment. Dahl's magic has not dimmed and time has not tarnished his relevance or his dark sense of humour. Reading Dahl's books now you can see that not only was he entertaining his mammoth audience of children, but also the adults who read out his tales to their charges, laughing at the jokes that the kids were not meant to understand.
Despite all those children celebrating the hundredth anniversary of Dahl's birth, there was much more to the man than children's fiction. His adult fiction is not as well-known, but shows that Dahl could write just as cleverly for adults as children. His adult tales are sprinkled with that fine dark humour – but with an edge to them. A perfect example of Dahl writing a tale with his tongue firmly pushed in his cheek is 'The Butler' in the new collection under the title Cruelty. This is a wonderfully crisp, short tale of snobbery and ignorance. The denouement is divine and through his words, I swear you can hear Dahl cackling like a demon at the audacity of Tibbs the butler! I do wonder if 'The Butler' could be classed as cruelty or whether it merely highlights that you can have money, but never class!
Dahl is not confined to the normal when dealing with his adult fiction. 'The Swan' (again from Cruelty) is an uncomfortable piece about bullying. Ernie and Raymond are bullies and on a shooting expedition, they stumble across Peter Watson who has victim stamped all over him. Dahl's descriptions of the torment of Peter are vivid and uncomfortable to read, but the end transforms to one of escape tinged with fantasy. By any other writer except Dahl, this would simply not have worked.
Dahl's work has stayed with me down the decades. Re-reading 'The Boy Who Talked With Animals', I was instantly transported back to school and I could see my old English teacher, Mr. Reardon, reading out this wonderful story. Mr. Reardon was a huge admirer of Dahl's work and we covered many of his books in class – one of them being 'The Wonderful Story of Henry Sugar' which is now housed in the volume Deception.
One of Dahl's most famous short stories is 'Lamb to the Slaughter' (again, now homed in Deception), which is a brilliant tale that shows Dahl's love of irony. There is a rumour that the idea was suggested to him by Bond creator, Ian Fleming. Originally published in Harper's Magazine in 1953, this was adapted for television for the 'Alfred Hitchcock Presents' series in 1958. It was one of only a handful of episodes that was personally directed by Hitchcock himself which featured Barbara Bel Geddes who went on to play the matriarch Miss Ellie in the famous TV soap Dallas.
This short story was again adapted for Roald Dahl's Tales of the Unexpected in the late 1970s. This first series featured nine of Dahl's short tales, all of which are collected throughout the four new-look volumes from Penguin Random House. These included as mentioned above, 'Lamb to the Slaughter', 'The Landlady', 'William and Mary', 'Neck' and five others. Each episode was introduced by Dahl himself who would set the scene before each tale.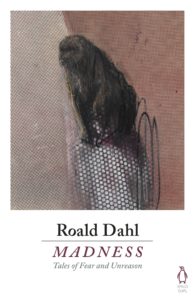 But what was it that sparked Dahl's imagination to create such pieces that featured the four topics now emblazoned across these new collections: Deception, Cruelty, Madness and Lust?
Born in Cardiff in 1916 to Norwegian parents, Dahl was the only son out of four children. When Dahl was three, both his elder sister and father died within weeks of each other. It has been pondered that Dahl's disconnection with people was due to growing up without a father figure. A tale Dahl loved to tell was when he and some school chums put a dead mouse in a jar of gobstoppers. The sweet shop owner was a 'mean and loathsome' old woman called Mrs. Pratchett. Both 'mean and loathsome' old ladies and gobstoppers are big factors in Dahl's children's fiction. Aunt Sponge and Aunt Spiker from James and the Giant Peach are perfect examples and may well have been based on Mrs. Pratchett.
As an adult, Dahl joined the Royal Air Force in 1939 as war with Germany became imminent. It was in a Gloster Gladiator that Dahl crash-landed in Syria, the chronicles of this adventure brought to life in his very first published story, 'A Piece of Cake' in 1942. This came about by a luncheon with the author, C.S. Forester who was working for the British Information Service writing propaganda for the Allies. Forester wanted to write about Dahl's adventures. Dahl said he would make notes. When Forester received the copy, he said they weren't notes, but the full story. He sold it to a newspaper on Dahl's behalf and sent Dahl the fee – and so started Dahl's writing career.
I feel that it was in Dahl's nature to be deceptive. During the war, Dahl was commissioned by Winston Churchill to get on very good terms with the President of the United States, Franklin D. Roosevelt and his wife, Eleanor. Dahl was to help Winston get to know Roosevelt and find out 'what was on the old boy's mind'. I believe Dahl had the sort of mind which could lean towards deception that gave his stories such cruel and ironic twists.
Twenty-six years after his death, children still leave toys and flowers at his grave, such is impression on many children today and on many adult's childhood from decades past. But Dahl knew that his readers would turn in to adults and that they too would want to be entertained. That is why there is still the same sense of cruelty in his adult fiction as in his children's books. They feature hideous characters – characters who are more refined than in his children's books, but they are still there if you look hard enough. These new collections are delicious delicacies and show that Dahl knew his audience and recognised that the kids who had read his books would grow up to be big kids who would still enjoy reading about people who are 'not so very nice'!