Books
Peter Swanson: five books with nasty neighbours
Let's face it, there's something already unnerving about neighbors, even the ordinary ones. We don't choose them, and yet there they are, right next to us, sharing our space. What if they play their music too loud? What if they have obnoxious parties? Worse still, what if they want to be friends? And what if they host alcohol-free dinner parties?
Here are five of my favorite books in which the stakes are much higher. Neighbors that threaten more than an occasional awkward encounter over the fence.
The Moving Finger by Agatha Christie (1943)
Most of Christie's Miss Marple novels are essentially about murderous neighbors. Marple built her particular set of investigative skills by observing the inhabitants of her village of St Mary's Mead, after all. The Moving Finger begins when the locals of a village called Lymstock begin receiving accusatory anonymous letters. When a murder occurs it's clear that someone in the cozy village is a murderer.
Across the Street by Georges Simenon (1945)
Simenon explored so many facets of city life in his multiple crime novels that it is no surprise that he tackled the subject of voyeurism. In this clever and chilly novel, he presents a woman who lives her life almost entirely by observing the lives of her neighbors.
Rosemary's Baby by Ira Levin (1967)
My vote for worst fictional neighbors of all time. When Rosemary and her husband Guy move into the Bramford apartment building in New York City their neighbors turn out to be a couple of elderly busybodies named Roman and Minnie. They also happen to be satanists.
The Secret House of Death by Ruth Rendell (1968)
When a woman's neighbor is murdered, she finds herself in the role as a comforter for the husband who was left behind. But as she gets to know the widower she begins to wonder if he had something to do with his wife's death. An early standalone thriller by the always brilliant Rendell.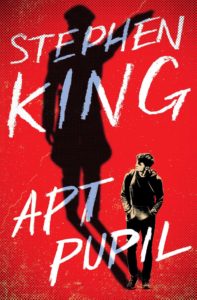 Apt Pupil by Stephen King (1982)
One of King's scariest novellas, a teenager discovers an elderly Nazi living in his California neighborhood. Instead of turning him in, he opts instead to hear about the atrocities the man committed. They form a twisted, evil relationship, each becoming worse because of the other.
What are your favourite books with bad neighbours? Let us know in the comments below!